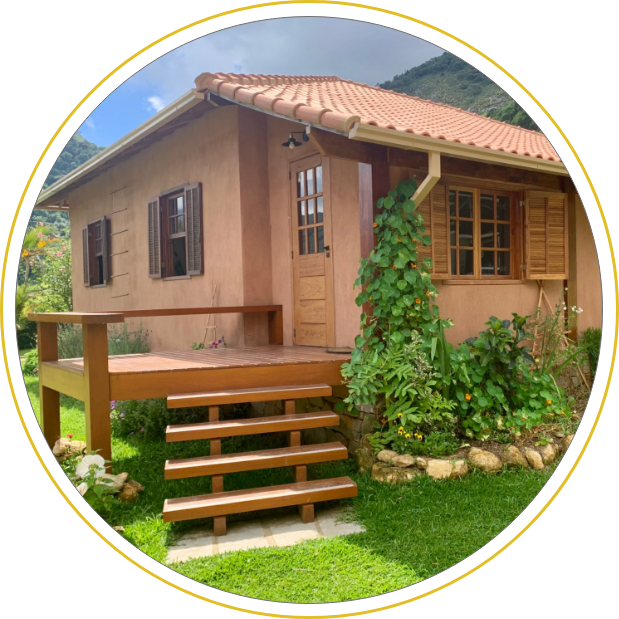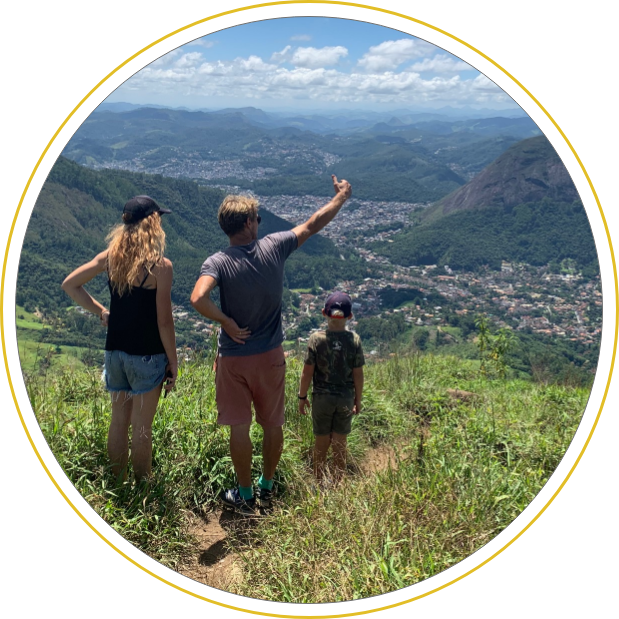 This beautiful place surrounded by mountains, Atlantic Rainforest and waterfalls is ideal if you're seeking to leave the city behind and experience quiet and relaxed holidays on the countryside.
While spending time at MAARA, you can
enjoy full comfort in a charming and newly renovated country house,
get to know our yard with organic vegetable garden, herbal hill, organic pool and plenty of green areas,
catch and release fish from the fish pond,
marvel at the sight of a breathtaking waterfall and bathe in one of many natural pools,
make a scenic hike through the Atlantic Rainforest or to some famous mountain peaks like Chapéu da Bruxa, Babilônia or Pirâmide,
enjoy healthy breakfast with many home-made products,
bring you own bicycle and use this place as a perfect base for a scenic bicycle tour in the area.
Please, make your reservation via Airbnb  or talk to us directly 
Additional Activities
There are many more activities and experiences we can offer for an additional fee to make your holidays even more dynamic and unforgettable. Our professional team will give you a special tour and guidance through the chosen activities.
Mount your special holiday package with these options:
Tour Agroforest
we will walk you through and explain the main principles and benefits of the agroforest / food forest,
teach you how to plant and seed – you can even plant your own tree as a positive 'footprint' here at MAARA,
let you harvest some delicious vegetables, fruits and roots, that you can bring home or add to the meal of the day,
you can join our volunteer team in their daily work and get your hands dirty while 'learning by doing'.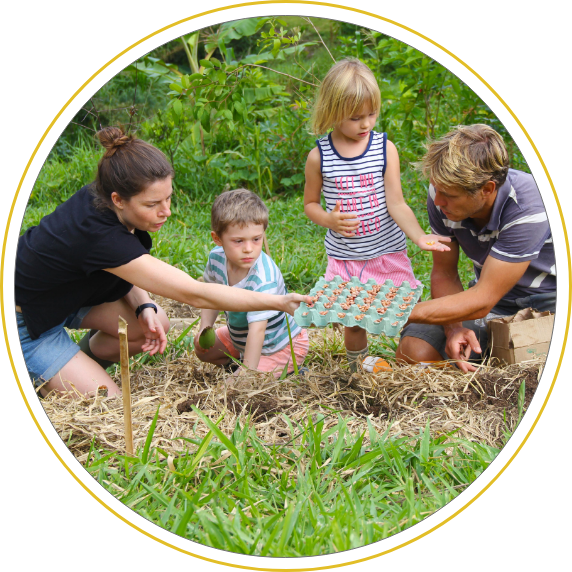 Tour for families with children
Enjoy activities like
feeding chickens and collecting eggs,
learn seeding plants and take them home,
harvest some delicious fruits and vegetables,
catch and release a fish from the fishpond,
enjoy a treasure hunt,
hike to some mountain peaks or a bat cave nearby,
play on plain grass fields around the houses,
jump into our organic pool,
bake your own stick bread on the flames of the campfire
open air cinema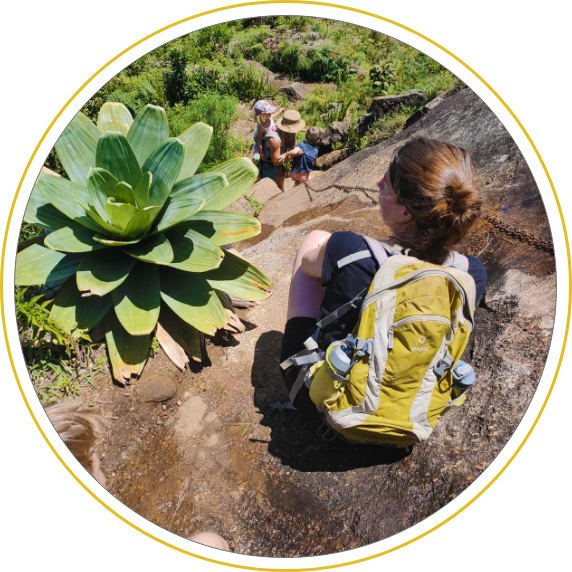 Tour Adventure
In collaboration with professional tour guides and instructors, we offer some extreme-sport activities, such as
climbing
abseiling in waterfall
downhill trails for biking
guided hiking tours for advanced level
Please, consult the conditions and possibilities at least 2 weeks in advance according to the chosen activitiy, the number of people and the desired time period!!!
Day Use
If you prefer not to stay overnight at MAARA, but only use the facilities and space, we offer different day-use possibilities:
Basic day-use for 70,- R$ per person and independent activities includes:
various trails with different difficulty levels
visit of the waterfall and natural pools with clean water coming from the spring
prepared picnic area
use of organic pool (water doesn't contain any chemical substances)
catching and releasing of tilapias in the fishpond
using the green areas of the yard for some free activities, such as badminton, soccer or others
free WIFI in the area around the houses
If you want to add some guided/organized activities to your day-use program (each for an additional fee), there are various options to choose from:
healthy food – a complete hands-on tour through the nursery, organic garden and agroforest (from seeding and planting to harvesting and eating)
tour about compost
ecological constructions – tour about organic pool and ecological sewage system
trail to the bat cave or a lookout point
harvesting some fruits and vegetables and taking them home
Please note, that there are no meals included in the pricing of the day-use. You can bring your own meal and warm it up here or, for an additional fee per person we can prepare a healthy vegetarian/vegan lunch and snacks. Please, inform us at least
3 days before your arrival about your preferences.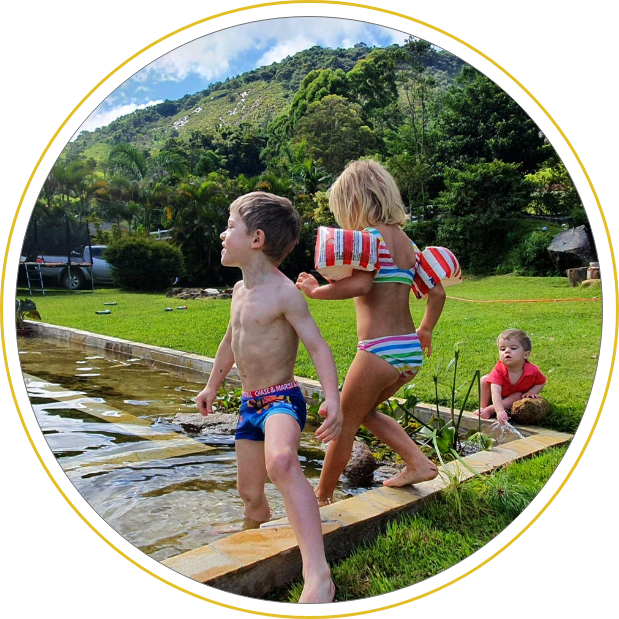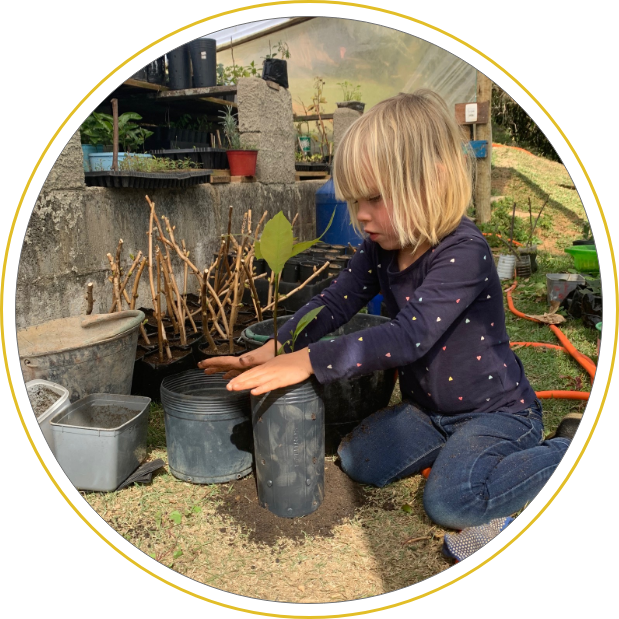 Camping
Did you know that the area of Nova Friburgo is within top 10 in Brazil with the most impressive nightly skies and clear star formations?
If you like camping, you can put up your tent right on the lawn around the houses or far away from artificial lights in the middle of nature. If you don't have your own tent, there is a possibility to rent one for 3 persons and one for 6 – just tell us your needs.
Full-Board Eco Experience
Stay in a quiet and relaxing environment (minimum stay – 2 nights) and enjoy a full-board eco-experience!
Stay in a beautiful suite (suited for up to 4 people) with your own entrance, in a completely reconstructed antique country cottage, enjoy comfortable beds, a modern bathroom with hot water and high-speed internet.
Three meals per day

healthy and energizing breakfast with fresh, home-made products,
vegetarian/vegan lunch with products mostly from our agroforest,
delicious soup and home-made bread for dinner.

Enjoy the atmosphere of this magical place of Projeto MAARA – jump into our ecological pool, get to know the organic garden or listen to the frog choir at the fish pond, walk barefoot in the green grass or relax in a hammock.
Get stunned by a 30m waterfall, take a bath in one of the natural pools or do a hike.
Choose up to 2 guided activities per day (please see the list of additional activities mentioned earlier).
 For booking and pricing requests or any special arrangements, please contact us at least 1 week in advance
Tell us about your restrictions or special wishes
We request 50% (non-refundable) of the payment at the moment of booking and the rest at the moment of arrival
R small backpack
R sunscreen
R mosquito repellent
R refill bottle for water
R appropriate footwear and clothing for each type of activity
R beachwear and towels
R hat
R raincoat
R a bag for transporting your own garbage